No. W20-1 and W20-1/H Wind Speed Sensor

This sensor W20-1 is designed for measuring of wind speed with low threshold (0.5 Kn.) up to strongest wind.
The rugged three-cup anemometer shows an excellent accuracy and linearity. It is completely made of anodised aluminium, stainless steel and Delrina durable and lightweight. A labyrinth prevents dust and water from bearings. A water-proof 7-pin plug provides a safety cable connection. Eight small magnets attached to the axis produce in a fixed dry-read contact pulses frequency proportional to wind speed. One rotation of cup assembly causes eight pulses. The large dimension of the caps makes the sensor suitable for frosty regions without using of a sensor heating.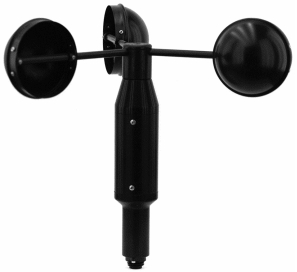 Specifications

Sensor type: 3-cup anemometer with dry-reed contact
Signal output:
8 pulses per revolution
0.402 m wind run per pulse
0.402 m/s/Hz
0.7813 kt/Hz
Measuring range: 0 - 80 m/s
Threshold Point: 0.3 m/s
Accuracy: 1.5 % of measured value
Ambient temperature: -20... + 60°C (unheated)
with heating: -50... + 60°C (No. W20-1/H = with heating device)
Heating supply: 200...250 V AC
Cup diameter: 100 mm
Cup wheel diameter: 410 mm
Dimension (body only): 300 mm x 60 mm (HxD)
Weight: 1.5 Kg
Material: aluminium (anodised), stainless steel and Delrina

No. W20-1/CL and W20-1/CL/H Wind Speed Sensor

The sensor contains a standard 4 to 20 mA two wire current loop amplifier for long distance data transfer to a display unit or computer station. The input voltage range is 10 …50 V DC.
Eight small magnets attached to the axis produce in a fixed dry-reed contact pulses frequency proportional to wind speed, which are transformed to a DC current by a current loop amplifier with a Butterworth filter, 4...20 mA corresponding to 0...60 m/s. The heating requires a supply voltage of 200...250 V AC.

Specifications

as above but:
Signal output: 4 - 20 mA two wire current loop
Input: 10 - 50 V DC

Measuring range: 0 - 80 m/s (20 mA correspond to 60 m/s)
Connection: 7pin water-proof plug
pin 1 NC, pin 2 NC, pin 3 signal -, pin 4 signal +, pin 5 and pin 6 AC voltage for heating.
Heating supply : 200...250 V AC
Ambient temperature: -20... + 60°C
with heating: -50... + 60°C (No. W20-1/CL/H = with heating device)