No. 73p Evaporigraph, Piche Type,

grey lacquered hammertone finished, rain proof metal casing for installation in the open air, with porous cardboard disc, hose connection to the vessel of the float, float with recording device for the recording of the height of evaporation.
Option: Extension of the measuring range by connection of a second vessel.

It has a grey hammertone finished stainless steel housing and glas windows and an outside arranged measuring element. The measuring instrument is characterized by high accuracy and durability for longllife operation

Equipped is the instrument with a high quality mechanical spring driven movement in coloured brass drum.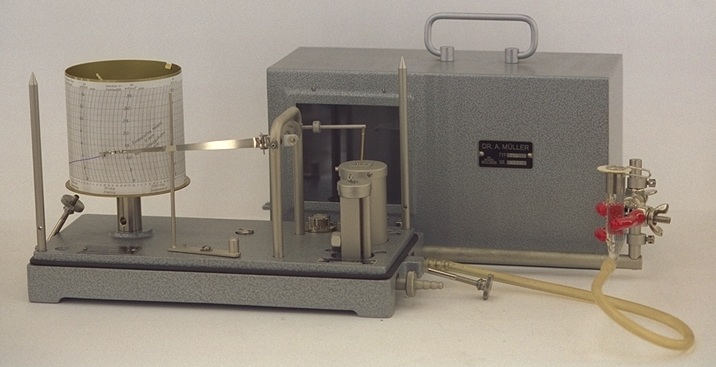 4 measuring ranges:

height of evaporation / diameter of disc

without additional vessel:
15 mm / ø 50 mm
37,5 mm / ø 30 mm

with additional vessel:
75 mm / ø 50 mm
187,5 mm / ø 30 mm



Drum rotation: daily or weekly

Recording drum:
ø 93,3 mm
Height 93 mm
Recording height: 75 mm
Running time: app. 9 days

Accessories:
1 set (100 pcs.) porous cardboard discs (30 or 50 mm diameter)
1 fiber pen
1 set of recording chart (100 charts for daily or weekly rotation)